'Cause Papa Pope Don't Play That!
(1) Jake: "So now I'm innocent?" #GeeThx
(2) Jake to Fitz: "Call me Captain Ballard B*tch!" #AdmiralIfYouNasty
(3) Liv – "Umm ur not going to kill my dad" But Liv how did you think this was gonna work? You thought he was just gonna say "ahh y'all got me, my bad"? #NahB
(4) Jake: "Somebody's gotta die" – I tole y'all last week #AskBiggie
(5) Jake to Fitz: "I'm talking to my girlfriend" / Liv: "Say word?" #StakeClaimJake!! #UAreSoMuchMoreThanStateFarm!
(6) Jake: "Ur father will kill both of your lovers" #ThisIsAFact
(7) Fitz to Jake: "I'll call u whatever I want to call u!" #Backstabber!
(8) Jake: "That's what WE do Fitz, we stand in the sun" #WEGotCatchPhrasesFitz! #FckYoVermontFantasy
(9) Donna Summer's "Bad Girls" #TootTootHeyBeepBeep!! #SoundtrackWin!
(10) Liz to Liv: "U did ur part" / Was that a dig?? I'm pretty certain that was a DIG!!
(11) Re Scary Hair Liz – I like the page boy hair, she should bring that back #WayLessScary
(12) Liv to Liz: "No I don't like you. We don't have to be friends for me to do my job "brilliantly" #IHandleIshForLivingYo
(13) Mofos trying to kill VPs now?? #FinchAlmostGotTakenOut! Next thing u know cats will be trying to hop Fitz's fence. Oh wait, that's a real life thing… #ProtectMyPOTUS!
(14) Papa Pope calling like it's all good #WhatsUpWithDinnerYo?? #WeAreFamily
(15) Papa Pope: "You may love these BOYS Olivia but…" / "After the conquest" / "After they've enjoyed the spoils" they gon' leave you girl! #IAmStillYourFather! #DarthVadar is that you??
(16) #CommercialBreak: Currently I am NOT checking for "Fifty Shades of Grey", y'all can have it (but I will admit Beyonce's involvement has me vaguely intrigued – aiiiiight MAYBE I'll see the movie but I am DEFINITELY NOT reading that godawfully written book!!) #BookSnob!
(17) Mellie: "I need to check on my boo!" GET YOURS MELLIE! I SEE YOU MA!!! GET! YOURS!! #BoomChickaWowWow!! #NiceBraMels #LaPerla?
(18) White bag check! #Yummy!!
(19) Wait wait wait, what is DAVID doing??? Where is he going with the files??? WHAT IS HAPPENING?? Ohh… #Nevermind
(20) Awwww Jake's face 🙁 #FixJakesFace!
(21) Seriously there really is still legit chemistry b/t Liv & Fitz – what IS that about??? #StarCrossedSoulMates???
(22) Liv: "I got a call from Huck" #SitCyrus!
(23) Cy re Michael: "He's a whore" / "It was fun and weird and not real" / KERRIEN – HE MENTIONED THE BABY! ELLA LIVES!!!! #CallOffTheAmberAlert
(24) Cyrus – "Who's side are u on Liv?" / "Clients are plenty, friends are few" #IMean…
(25) WHITE COAT/CLOAK AND BAG CHECK! #YAAAASSSSS!
(26) Liv: "Your son? Word Huck?? And his Moms?" / Huck: "Do you have a work related request for me?" Translation: MIND YA BIZNESS LIV! #Whelp!
(27) Damn Cy – Those pics! #Steamy! Glad u finally realized how foolish you've been! Took u long enough #GoodSexWillGetYouEverytime!
(28) Ummm Liv U just straight up lied to Liz!! Like a real lie, not like a small white lie #GoldilocksVirus #Word? #WhoAreYou???
(29) Cy re Michael: "I'd only end up killing him" (*drinks wine) / Mentions Ella again!!!
(30) Liv has a lot on her plate this Ep – Jake/Fitz/Papa Pope; Cy/Liz/Michael; Huck/Javi #Geezus!
(31) Jake: "You and that Fitz guy" #Lol!
(32) Michael – Umm u might end up dead tonight #BadMoveSon #DontSleepOnCy!
(33) WTF IS HAPPENING?? CYRUS??? W.T.H?? #SooooNERVOUS!!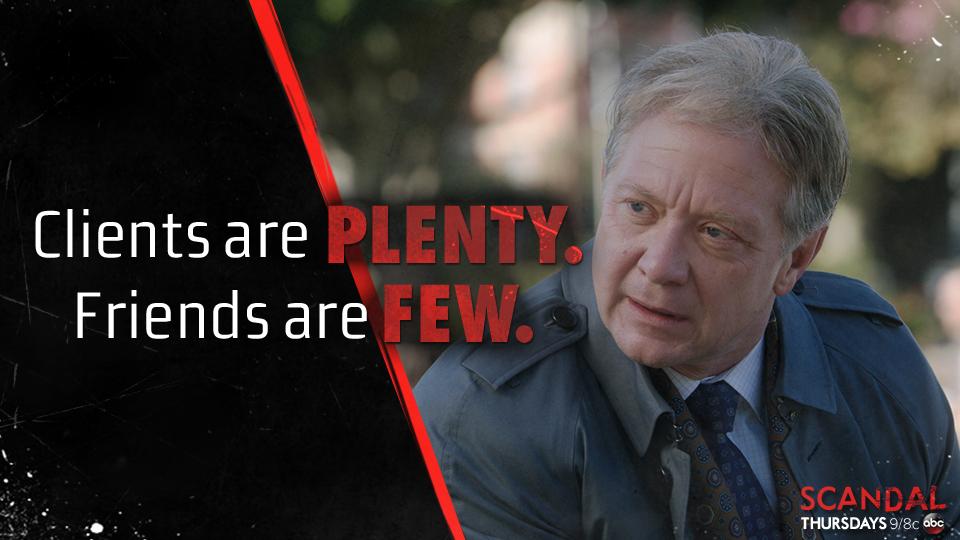 (34) Whew – he's not dead #Yet – Also Liv just be rolling up on cats w/ I know everything about u playa so let's just cut to the chase shall we?
(35) SOUNDTRACK! WIN! Michael's #WorkingDayAndNight!!! How much did THAT cost??
(36) Also, WHO THE FCK HAS MJ PLAYING DURING THEIR TV SHOW??? SHONDA THAT'S WHO!
(37) Kubiak WAS eating A LOT of pastries #Type2DiabetesIsRealHomie
(38) HUCK! U got ur son on a stake out??? #NoHuckNo
(39) Gray coat check! AND THE BAG! #Drools!
(40) This 'mano a mano' ish… talking about trophies. What did Papa Pope say?? #Boys
(41) Wait, what on earth is happening?? Liv calling in tears, telling Papa Pope he's right?? She's just playing him right?? Oh ok, whew! #SetUpDinner #StillIAmNERVOUS
(42) Fitz: "I'm the President, who are you? What Jake didn't say but should have: "The guy who's been sleeping w/ your woman" #DropsMic #WatchesFitzsHeadExplode
(43) VP Andrew: "Mellie what's up?? I mean…" / Mellie: "I woke up" #AndImHorny
(44) All these covert a*s relationships #INeedAChart
(45) Cy to Liv re Michael: "He thinks ur a good man" Cy is NOT trying to hear that sh*t #NoChill
(46) SCARY HAIR LIZ & VP ANDREW???? CAN'T TRUST NOBODY ON THIS DAMN SHOW!
(47) Umm why did Quinn stab him in his arm instead of his neck? Come on, you've been trained better than this!! #DontMakeMeCallCharlie!
(48) SEE?!! THAT'S WHY 'TAKE UR KIDS TO WORK DAY' DOESN'T WORK FOR ALL JOBS!! Also Marshella brought up a good point: his momma ain't concerned about his late night whereabouts?
(49) Liv to Papa Pope: "Why are u looking at me like that?" BECAUSE HE IS ON TO YOU LIV! RUN GIRL RUN!!!
(50)PAPA POPE TIME!
(a) Even when he's supposed to be being sincere I can't trust it. I don't believe it Liv. Don't. believe. it.

(b) Papa Pope: "I stumbled" #Understatement

(c) And then he moved in closer…

(d) "That's what u WERE to me" / "That is now over" #YIKES!!

(e) "U have forsaken me" / "U wanted to stand in the sun" / "Those people are not ur people" #HeHasAPointThere…

(f) Papa Pope/Rowan/Eli:  "AND I got ur files" #CueEvilLaugh

(g) I DON'T KNOW WHY Y'ALL KEEP UNDERESTIMATING PAPA POPE/ROWAN/ELI??

(h) And then this dude just walked off, like #Shaft in this b*tch

(i) JOE MORTON IS DA MUTHAFING TRUTH! #Emmy!!!
NEXT EP: ARE WE REALLY SUPPOSED TO BELIEVE LIV IS JUST GONNA KILL SOMEBODY?? Self defense maybe but in cold blood??? #SayWhatNowShonda??
#SCANDAL!