Information you might find interesting…
1. "The Affordable Care Act" a.k.a. "Obamacare" kicks off on October 1st!!!! (Keeping my fingers crossed and praying for the best)
The first thing you need to know:

Most Americans must have health insurance by March 31, 2014. A lot of people will keep getting it through work, but for everyone else, states will offer an "exchange" where people can purchase insurance from competing insurance companies.

Enrollment begins Oct. 1, and coverage begins Jan. 1.
For more click here: "Obamacare Cheat Sheet" and here "Here's What 240 Million Americans Will Have To Start Doing Next Week, Thanks To Obamacare"
2. Speaking of actions by our elected officials…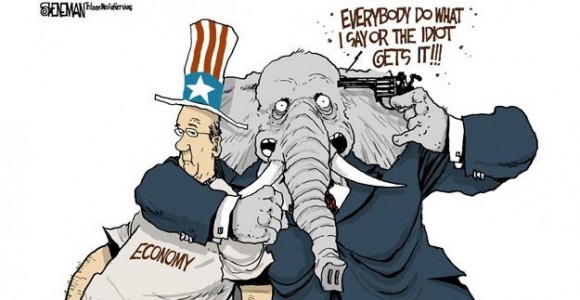 Rachel Maddow provides an excellent assessment of how the House Republicans have ALWAYS been crazy, how Republican Senator Ted Cruz is STRATEGICALLY being used as a scapegoat and how we need to vote those progress blocking, Obama haters OUT OF OFFICE in 2014.
Rachel Maddow called out Congressional Republicans for driving the country toward government shutdown.

The MSNBC host compared the current fight in the Senate to the Republicans shutting down the government in 1995. Maddow pointed out that Americans blamed Republicans, rather than Bill Clinton, for the shutdown by "huge margins" and that Clinton was reelected the next year.

She said that Republicans are doing the same thing now, except they are trying to pin blame for the situation on Ted Cruz. Maddow continued, "And it is kind of a brilliant idea, because that guy sort of wants to be blamed."

She replayed clips of other Congressional Republicans criticizing Cruz's efforts to get Obamacare defunded in order to avoid a government shutdown. (Huffpo)
You have been informed and warned. Click here for the video.
3. Louis C.K. lets you know why his kids can't have smartphones, that it is okay to be alone and that he is a very very intelligent and insightful man. Love him.
#Swoon
4. Speaking of parenting, 300 teenagers broke into a home, threw a party and vandalized the hell out if – they also tweeted and facebooked and instagramed the hell out of it as well. The homeowner justifiably called them out also via social media. Here's the kicker, a few of the PARENTS of these hormonal monsters are now threatening to sue the homeowner. I swear you can't make this ish up.
Definitely worth a read: ""An Open Letter To The Parents Of The Stephentown 300"
5. Two dating stories that made the rounds this week:
(a) NY POST article "'I'm 124 sandwiches away from an engagement ring'"

Same story as reported by Gawker: "Bitch, Make Me 300 Sandwiches, Orders Beautiful Woman's Boyfriend"
And,
(b) Buzzfeed article: "The Worst Person In The World Will Pay You $1,500 To Find Him A Girlfriend"

Same story as reported by Gawker: "Racist Romeo Willing to Pay for Non-Fat, Non-Slut, Non-Black Girlfriend"
That's it, I'm just providing you with the headlines, I'm saving the rest of my commentary for…
All of this and sooooooooooooooo much more (I didn't even have time to get to the music stuff, featured artist Nicole Wray) will be discussed on the next episode of THE MADNESS COLLECTIVE!! And just for you, I am reposting our last episode. Aren't I swell? 🙂
ENJOY YOUR WEEKEND!!!!