I'm sorry folks, I do have a boatload of headlines I want to comment on but my time is crunched today. Sooooo all I'm gonna do is list them and throw in a few photos. But first…
On the next episode of The Madness Collective, we will be discussing:
(1) "Blackface" (I mean how can we not??)
(2) Jay Z's response to the Barneys controversy
(3) The all knowing, all powerful entity of evil that is the NSA
(4) Taking selfies at funerals – ain't that some crazy sh*t??
(5) Our featured artist is "Avicii"

Additional headlines that are worth your attention include:
(6) "47M Americans hit by food stamp cuts starting today" (this is real serious and real f*cked up)
(7) "Jim Wheeler, Nevada Lawmaker, Says He'd Vote For Slavery If That's What His Constituents Wanted" (Yep, that happened)
(8) In Kanye West News:
(9) In much better news, this was literally THE BEST story of the week "Boy Wanders Onto Stage To Hang Out With Pope Francis" Buzzfeed pics: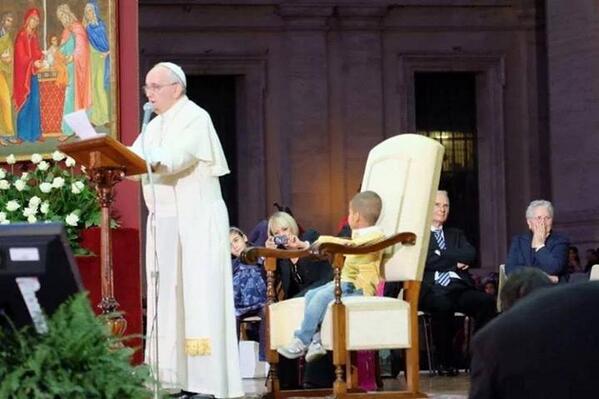 I'm not anything even remotely close to Catholic but I am quietly falling in love with Pope Francis.
(10) If you follow me on facebook then you already know but just in case you don't "SCANDAL RECAP" TIME!!!
(1) She really put Sunday Dinner back on the table huh #DamnLivDamn;
(2) Awww Huck has a male friend #BFF
(3) Hey it's "Cooper" from Private Practice (Shonda stay employing folks) #ExceptIsaiahWashington#TooFar?
(4) "Penis Problems" AND "His wife is a Frigid Shrew Problem" (Coop kept it One Hundred)
(5) "Smells like Nixon in '74 #NowThatsAnOdor
(6) "You heard my problem now go ahead and fix it!"#RoadTrip!!
(7) Is that a burner phone? #Circa2000
(8) Average White Band AND The Commodores! #SoundtrackWins
(9) Briefcases of cash (now that's how you do business) #AintMad
(10) FINALLY ABBY'S BED HEAD IS UNDER CONTROL!! #SmallMiracles
(11) "WE GOT POPED, SIR!" #ForTheWin
(12) Ooooohh Papa Pope v. Fitz!
(13) "I gave her a world-class education in the dark arts"#HarryPotterReference!! \
(14) Btw "Trident II" is a submarine-launched ballistic missile (I looked it up cause I don't like not knowing stuff that is easily searchable);
(15) "Baby Huck" #Grounded
(16) OMG! Fitz looked at Cyrus like "muthafckr who YOU touching!??!" #PresidentialBalls
(16) Now we know that ain't nuthing but grape juice Kerry/Olivia!! #Preggers!!
(17) Iceland? #Brrrr
(18) VP Sally also keeping it One Hundred! #BathroomTalk
(19) I don't love the hair but the walk is EVERYTHING!
(20) O.M.MF.G! I. Cant. Breath! "Come back to US! WE need you"!! I. AM. D-Y-I-N-G!#Liv&MellieConvo
(21) Aww Jake trying to take a stand, that's cute#2ndFiddleSpeech
(22) Quinn is crazy. Period.
(23) Huck is so tortured. Maybe someone could tell him that you shouldn't already be in your friend's house when they get home, it's a little creepy
(24) Olivia's Momma revelation, alright Shonda you may have just taken shit a little too far now. How da "f" he gon' come back from that one???? #DamnFitzDAMN!
(25) I love this show! #Friday
*(yes I know there are two #16s, let it go)