(1) So Ariana Grande is a real life elf huh?
(2) Nicki Minaj #Assets
(3) I like Jesse J #ThatIsAll
(4) So I guess that quick change didn't work out so well for Nicki huh? Stacy: surprised she just didn't let 'em hang out. Me: Truuuu #YouWereThinkingItToo
(5) Why does Gwen Stefani sound like that? Has she always sounded like that? Is that on purpose? Does she have a speech impediment? #IHazQuestions
(6) I strongly dislike Katy Perry's outfit #ThatIsAll
(7) Is this SNL dude the host? #JayPharoah
(8) I just saw Jay Z carrying Blue Ivy backstage, I feel like I saw a family of unicorns.
(9) I don't believe that Lorde ("Royals") and Taylor Swift are friends #Hmmm
(10) I'm not a Chelsea Handler person. I respect her hustle but like from afar.
(11) So what would have been funny is if Jay Z had come out WHILE ole boy was doing that impression #MissedOpportunity
(12) WHO IS THAT DENIM CLAD DUDE WITH KATY PERRY?? Her brother? Why are they matching?? Are they dating?? Answer: "Dolce & Gabbana" (Also UGH!)
(13) Ariana reminds me of Christina Aguilera #TwoSingingElves
(14) Why does it look like Iggy A is wearing a beach towel? Because she could be #Fashion
(15) WHAT IS KIMMY K WEST WEARING? Stacy: Tit-tays. Me: LMAO!
(16) Maybe I'm imagining things BUT was Rita Ora not so quietly shading Nicki? That look on her face during Nicki's performance and when she mentioned how hot the opening acts were (questionable but whateves) and she didn't mention Nicki's name??? Reality check: Why do I even know about these people and why am I even discussing this BS?? #PopCultureAndMusicJunkie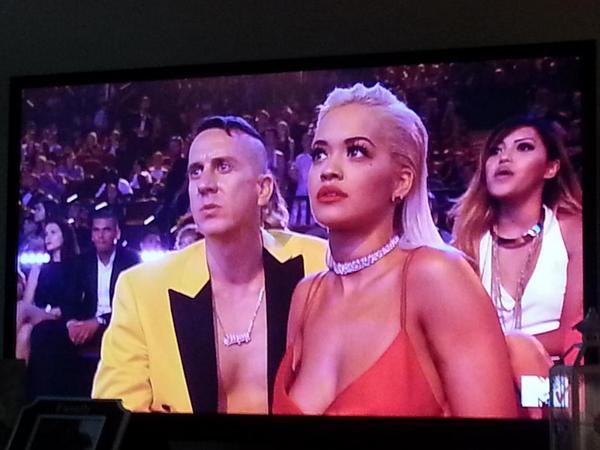 (16.1) (Word to the wise Rita, you don't want it with Nicki)
(17) Moment of silence for Mike Brown #_____
(18) Jay Pharoah as Kanye: "I created television" #Lol!!
(19) What song is Usher performing? Am I supposed to know it?
(20) Is it just me or is the sound in the Forum is terrible??
(21) So are Ariana and Big Sean together now? #SipsTea
(22) If I never see another Iggy A performance for as long as I live that would be too soon #Gag
(23) Who is this apple faced chick again? Stacy: Demi Lovato. Me: Ooohhh, right, right.
(24) Ugly Ass Sweater alert!! #Maroon5BandMember
(25) Stacy: So if Miley hadn't won…
(26) BEYONCÉ!!!! She is the only reason I tuned in. My text to Stacy: "Can u record the VMAs? I forgot that it comes on tonight and Bey is supposed to make an announcement and yes I know I sound like a teenager but I don't care." Stacy: "LOL. Sure." #AndThatsWhyWeAreFriends 🙂
(27) Is she wearing a bodysuit made of colored glass? Stacy: stained glass
(28) Why does Taylor Swift look so awkward when she's dancing? Oh wait, never mind #SheJustDoes
(29) I think Bey just said my life is good and all you haters need to mind your own goddamn business! Well that's what I heard anyway. #SipsMoreTea
(30) This was a short show right? #SmallMiracles